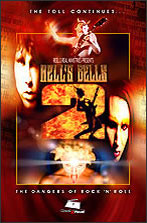 OCEANSIDE, CA – Christian software company ChristSoft announced today the release of its new media player, HB Player. Nicknamed after the pivotal rock music exposé "Hell's Bells" videos, the new player streams audio files backward using breakthrough technology developed over the course of the last 18 months. The technique has been nicknamed "backstreaming." HB Player is also capable of playing popular mp3 files backward.
The company's goal in developing such software was to enable the next generation of teenagers to decode modern rock music. "Uncovering backmasking used to be quite an ordeal; you had to have specialized equipment." says Anthony Nucaro, ChristSoft's vice president of marketing. "But with new backstreaming technology, defeating Satan's evil schemes is a snap. All you have to do is download an mp3 from Kazaa or visit a secular band's website for sample files, and open them with HB Player."
In a double irony, the software was tested using the backmasked introduction to Petra's Judas Kiss. Chief software developer Martin Billmeier: "It took literally thousands of revisions to get the backstreamed message to come out clearly, but now you can hear it easily. We developed using the Petra piece to protect ourselves from the harmful messages embedded in secular rock music." The hidden message in Judas Kiss is "What are you looking for the devil for when you ought to be looking for the Lord?" Asked why HB Player does not play secular music in the normal direction, Billmeier was puzzled. "Why would you want to listen to evil music like that? You'd be exposing yourself to subliminal messages from the Devil!"
The initial release of the HB Player will be free, although ChristSoft plans to release a paid version of the software sometime late in 2003. Add-ons in the paid version will include the ability to backstream video files; a feature Nucaro says will "open the doors to a whole new world of spiritual warfare." A release for Mac's OS X is due in 2004.
This is the first foray outside the gaming market for the software company, most famous for its shoot'em up style children's evangelism game Contagious Christians ®, available for most major game platforms.