LUBBOCK, TX – As if 3.2 million burned cassettes and CDs isn't enough, lead singer Natalie Maines of the Dixie Chicks apparently wants more of her country music band's albums destroyed by their faithful protestors. She recently continued her streak of offensiveness with some irreverent comments regarding church and God.

First, it was her remarks to a European concert audience regarding how ashamed she is that George W. Bush is from Texas—her home state. Then, during the May 21st American Country Music Awards, Maines wore what is believed to be a special message for country music star Toby Keith on her shirt—"F.U.T.K."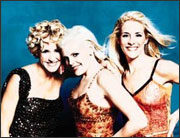 Maines' latest remarks really 'hit home,' so to speak, as they came during a visit to her birthplace and hometown as a child, Lubbock, TX. She started her interview with the Lubbock Avalanche-Journal on a good note. But when asked if she was able to attend her childhood church while visiting, an irritated Maines responded, "No way! I hated how my parents always made me go to that place." As if that wasn't enough to disturb most local churchgoers, Maines added, "Besides, now that I'm probably richer than God, maybe he should come to me!"
Once word of Maines irreverent remarks got around, a new wave of protests followed closely.
"Burn the b****," screamed one angry ex-fan as he threw a triple-platinum Dixie Chicks CD into what he later explained as "their earthly hellfire" in a Dallas, TX protest. 1300 people attended the event and brought all of their Dixie Chicks paraphernalia to add to the fire. Shouts of disgust echoed off nearby buildings as "Let 'Er Rip" played symbolically in the background, before they burned that CD too.
Ironically, the massive national boycott of Dixie Chick products has been more than offset—to the point where there is a current boost in album sales—by the protestors' purchases with the intent to burn. It turns out that most of the previously owned albums are now burnt and gone following Maines' first two offenses. The protestors need more fuel for the fire.
"We're starting to catch on," Methodist pastor and regional protest organizer Blick Franklin told The Holy Observer in a phone interview. "After purchasing all 87 of Best Buy's Dixie Chicks CDs in Austin, I started thinking, 'This seems oddly counterproductive.'"
That's when Franklin began the "Burn to Burn" campaign, which has built up quite a following. He explains, "Now we just download their songs for free on Kazaa and burn them onto CDs. Then we burn the CDs! When you break God's law you pay."
When asked regarding breaking God's law what he meant by 'we download their songs for free,' Franklin sounded confused, responding, "What do you mean? We can just download them… it's free."
Individuals are not the only ones lashing out against Maines and the Dixie Chicks. KSBJ Radio in Houston, TX recently stated on-air, "I can assure the wonderful listeners of KSBJ that although we have never played any of the Dixie Chicks' music in the past, this unfortunate and disturbing incident has caused us to think more about our station policies, and we have decided to institute a policy that disallows ever playing their music in the future." Many other stations are following suit, such as KWVE – Santa Ana, CA, WMUZ – Detroit, MI, KVSS – Omaha, NB, KRIO – McAllen, TX, and KBNJ – Corpus Christi, TX to name some.
The saying goes, those who forget the past are condemned to repeat it, which seems the case for Natalie Maines. And for all of the Dixie Chicks, many Christians believe as Blick Franklin asserted, "God won't forget their pasts, and he'll condemn them to Hell!"