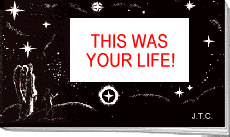 BLOOMINGTON, IN – Yesterday
In what is widely regarded as the first success story of its kind, a local man actually led his friend to faith in Jesus Christ using a gospel tract.
Local ironworker Bill Spaulding was overjoyed that his witness had borne fruit: "Dan [Foley, converted friend] has always been skeptical about religion. But somehow the topic came up, and I figured I'd give it a try. I'm glad I had that tract handy. It really made a lifelong faith commitment to Jesus Christ seem simple."
Witnesses of the event were shocked by Foley's positive response to the tract. Nina Black, a local Christian woman who had stopped into the café for a smoothie after a jog, was surprised at the conversation she overheard. "I saw him pull that thing out of his pocket, and I was like, 'Oh God! What is he doing? This is just gonna make it worse!' But the guy was actually into it. He said it made a lot of sense. I still can't believe I witnessed that with my own eyes."
Even Foley was a bit surprised at his own conversion. "It was the weirdest thing," said Foley. "We were just sitting in the café at that Borders in Eastland plaza, talking about the NBA Playoffs, and the next thing I know, the talk had turned to religion and I was, like, praying this little prayer. I didn't want to spend eternity in a lake of fire!" The tract, distributed by Chick Publications, is entitled "This Was Your Life" and details the sudden death and subsequent judgment and damnation of a non-Christian.
The secular response has been less positive but no less surprised. Ryan Saulsbury, the barista working at the counter and a self-described "Nietzschian agnostic," was appalled when he saw Spaulding using the tract. "It was really offensive, man. I mean, he was reading that fascist religious crap out loud so everyone within three tables could hear it." Saulsbury was both surprised and indignant at Foley's positive response: "I guess the guy he was reading it to didn't mind, because before long, they were holding hands and they had their heads down like they were praying. There goes another perfectly good brain, consumed into religious mush." The Indiana Civil Liberties Union has pledged a thorough investigation of both Spaulding and Borders Group, Inc. to probe the civil liberties implications of the encounter.
Experts remain skeptical, calling the account highly suspect. The Center For Conversion Research, an ecumenical group dedicated to the study of Christian conversion, issued a statement detailing the organization's continued disapproval of the use of gospel tracts. "While we rejoice with the entire Christian community at the conversion of Daniel Foley, we remain firm in our opposition to the use of so-called gospel tracts as a means of Christian witness. Our research consistently reveals an overwhelming majority of negative results from this literature, which can actually repel potential converts from Christianity.
A spokesperson for Jack Chick Publications, on the other hand, was gleeful at today's press conference. "This just confirms what we've known all along: that these wonderful publications do make a difference in our world. We will never cease in our efforts to multiply God's kingdom and snatch precious lives from the jaws of atheism, freemasonry, and Roman whoredom. The angels rejoice every time another sinner rejects cultic practices or unbelief in favor of the matchless grace of the Lord Jesus Christ as expressed in the Authorized King James Bible."
Both Spaulding and Foley are excited about their new-found common bond. The two plan to embark on a city-wide search for a Bible-preaching church for Foley to attend.