In This Issue

Like The Holy Observer on Facebook!
Don't forget to sign up for our FREE email newsletter!

Harry Potter Alternatives
by Thad Brouct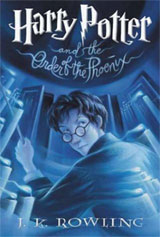 It's a commonly heard complaint in Christian circles. You've breezed through protesting all 870 pages of the fifth Harry Potter novel, and the sixth installment is not due for at least another 18 months. What books and book series should you protest to tide you over until HP6 hits the shelves? We at The Holy Observer have compiled the following list to help fill the void left in the wake of Harry Potter and the Order of the Phoenix.
A Series of Unfortunate Events by Lemony Snicket
Unfortunately, there is virtually no witchcraft in this series to provide a solid basis for protest. Yet the author does generously provide us with three disobedient, unruly children as negative role models for the youth of today. The Baudelaire children make horrible examples, practicing seemingly limitless acts of deception, moral compromise, and other sinful behavior—all because their distant relative murdered their parents and pursues them in hopes of stealing their inheritance. Christian children will find endless hours of excitement protesting these "lesser" sins, while their parents will enjoy researching the author's preoccupation with incest.


His Dark Materials trilogy by Philip Pullman
We haven't actually read this series, but it sounds so evil we couldn't resist including it in our list. We can only assume that the title refers to some form of satanic evil, and the back cover said something about parallel worlds. It's best to stay away from this kind of thing, and spread the word before others are unwittingly sucked in.


Walt Disney Read-Along Books by various authors
This picture-book series includes Cinderella, Snow White, The Little Mermaid, and other dangerous tales. We need not tell you the evils of the Walt Disney Corporation, because we're sure you already know, but what you may not know is that these stories are rather evil all by themselves. From glorifying divorce (through the presence of step-sisters) to sinful creatures like dwarves and talking crustaceans, there is little to commend these books—unless, that is, you're a satanist yourself.


Captain Underpants by Dav Pilkey
These deplorable books teach children innumerable bad behaviors—from farting to booger-flicking and everything in between. While there are no occult references in the series, the bathroom humor is enough to justify at least a neighborhood-scale protest. In addition, this series contains a particularly malicious feature called Flip-O-Rama. More like Sin-O-Rama, if you ask us.


Artemis Fowl by Eoin Colfer
Amazon.com Critic Susan Harrison writes, "The author has let his imagination run riot by combining folklore, fantasy, and a fistful of high-tech funk in an outrageously devilish book that could well do for fairies what Harry Potter has done for wizardry." If that's not a call for protest straight from heaven, we don't know what is. Act fast to prevent more devilish behavior among the children of the world!



The Chronicles of Narnia

by C.S. Lewis


In this treacherous series, Lewis presents us with plenty to protest, including bickering siblings, Turkish Delight, a white witch, and the worship of a talking lion. The remarkable similarity in content between Narnia and the Harry Potter series makes these evil novels perfect for practicing your technique in preparation for HP6.

With a little ingenuity, you should be able to make this list last you until the next Harry Potter novel is published. We at The Holy Observer wish you happy protesting! One last piece of advice: whenever possible, avoid reading these books as you protest them. It's best to avoid the appearance of evil, and you never know when you may be affected. More than one Christian has become addicted to evil, thinking he was more resistant than he actually was. Don't fall prey to this common trap of the devil.

---
Bookmark/Share this page: