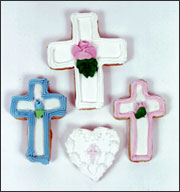 Higher Ground's
Christian Cookies
GAITHERSBURG, MD – Although owners Keith and Minnie Brunner have been marketing Higher Ground Coffee Haven as a "Christian Coffee House" on a local Christian radio station and in a local Christian newspaper for the past three years, customers are beginning to notice that there's not really a whole lot that sets the shop apart from secular coffee houses.
"I was a little surprised," said Gaithersburg resident Jean Shchant, who traveled across town to visit Higher Ground last month for the first time. "On the radio they talked about the Christian atmosphere and supporting a Christian business, but when I went there, the only thing 'Christian' about it was some Veggie Tales place mats and the fact that their coffee sizes were Tall, Venti, and Goliath."
When the Brunners first opened Higher Ground in 2001, the coffee shop featured Christian musical acts every Monday, Wednesday, and Friday. But that schedule fizzled out after the first few weeks.
"Yeah, the whole music thing proved to be a little much, especially since it's just me and Keith working here," Minnie Brunner said, setting her copy of Left Behind aside to mix up a house specialty Mount Carmel Mocha for an eager customer. "I guess we didn't realize how loud all of the bands would be, and then they'd want to stay so late – almost always past 10 o'clock."
Keith Brunner, 36, left his job as a union mason and cashed in his 401 (k) to get the 1,200 square-foot Higher Ground up and running in West Gaithersburg Plaza.
"I really felt the Lord calling me to be a witness and a shining light through my efforts at work," Keither Brunner said. "You try doing that while laying brick nine hours a day. Minnie and I had heard of other people having great success with these Christian coffee houses, so we thought that would be a way to reach out to our community with Christ's love and some darn good coffee."
But just exactly how Higher Ground is reflecting the love of Christ is unclear to many. A side-by-side comparison of their menu of coffees and desserts and that of the local Gaithersburg Starbucks reveals very few differences in products or prices.
"Charging folks five bucks for a cup of coffee is hardly a ministry," said Pastor Roy Millar of nearby Gaithersburg Free Methodist Church. "I think I'll stick to buying it for $1.19 at McDonalds and leave the rest for the Lord. Now that's a ministry."
Although the differences between their shop and other coffee houses may be subtle, the Brunners are convinced that Higher Ground Coffee Haven is a shining beacon of Christ's love to the Gaithersburg community.
"People come in here every day and see the love of Jesus on our faces and taste it in our coffee and pastries," Minnie Brunner said. "We may not be shoving it in anyone's face, but they can see our faith in every cup we serve, and you can't tell me that's not planting some seeds."