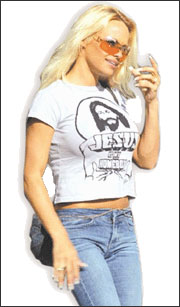 Jesus is Pam's Homeboy
HOLLYWOOD HILLS, CA – Pamela Anderson has a new homeboy, and it's none other than Jesus Christ himself. In a move that has heads turning from the Bible Belt to Rodeo Drive, the model-turned-actress has announced that she and Jesus have forged a groundbreaking new relationship. Under the terms of the relationship, the Lord will act as Ms. Anderson's "homeboy"—an urban slang term used to signify a close friend—and she will occasionally sport a tee shirt indicating the friendship.
"All these Christians are always saying you need to have a personal relationship with the Lord," said Ms. Anderson at a press conference announcing the relationship. "Well, I do: he's my homeboy! I'm not ashamed to tell the world that even though I think Christians are intolerant and boring, I still think Jesus is somewhat cool. In a trendy sort of way."
Ms. Anderson's announcement even has an evangelistic flare. Already, other stars have begun negotiations with Christ to establish their own homeboy relationships with him. It seems even A-listers such as Ashton Kutcher and Madonna are converts to what is fast becoming a quasi-religion in Hollywood.
Jesus himself remains subdued in his reaction to the new-found attention from the stars. "I'm more than happy to be Pamela's homeboy, if that's what she wants," the Lord said when we reached him by phone. "Of course, I'd really prefer a relationship that is more…spiritual, but I guess I can't force her to accept me as her savior." Under the terms of the agreement, Jesus is not required to wear any clothing that refers to Ms. Anderson. However, he did insist on an option enabling her to upgrade her relationship to include full atonement for her sin should she choose to pursue such an avenue.
The announcement sent theologians into a flurry of activity. Bernard Fassel, professor of theology at Oxford University and an occasional Baywatch viewer, had this to say: "Jesus was a friend to sinners, so it's not outside the realm of possibility that he would befriend Ms. Anderson. I just find it more likely that he would be defending her from an angry mob of Pharisees trying to stone her to death than accompanying her on her shopping trips in Beverly Hills."