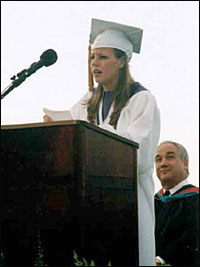 Plagiarizer
BATTLE CREEK, MI – The graduation speech of 2004 Battle Creek Christian School Valedictorian Crystal Finn, delivered earlier this month, sent shockwaves through the audience, not for what she said, but for what she didn't say.
"We all loved and trusted Crystal, so we didn't demand a copy of her speech like we've done with past valedictorians," BCCC Principal Donald Roop told THO. "We saw that her title was 'God's Perfect Plan,' so we put it in the program, and we figured we all knew what was coming. But we were wrong. And we don't like surprises."
The surprise of which Roop speaks came at the end of Finn's speech. It wasn't a shocking statement, but rather an omission that school officials are now saying rises to the level of plagiarism. The problem: although Finn talked at length about how God has a plan and purpose for each of us, she failed to make mention of Rick Warren's best-selling book, "The Purpose Driven Life," which school officials say was obviously the source behind the address.
"I was sitting there listening to the speech, just waiting for her to start talking about how Rick Warren is a genius, and how his prophetic words inspired her speech," said Vice Principal Kenneth Dyer. "Before I knew what was happening, she was saying, 'God bless all of you' and turning around to take her seat. I was absolutely speechless."
Finn maintains that any similarities between her speech and Rick Warren's book are entirely coincidental.
"The only thing I know about that book is that my church was doing some big 40 day study with it or something," Finn told THO. "I clearly cited the only source I used for that speech. It's called the Bible."
But BCCC officials aren't buying that explanation for a minute.
"Right. Her speech is basically an outline of a book that's been on the New York Times bestseller list for months, and we're all supposed to just accept that this was just a coincidence," Roop said. "I suppose someone giving a speech on the prayer of Jabez a couple of years ago without mentioning Bruce Wilkinson would have been just fine. That's in the Bible, too. Give me a break."
Despite their outrage, officials at BCCC are at a loss for a way to discipline Finn since she has already graduated from the school.
"Revoking her diploma would be unprecedented, but we are seriously considering it," Dyer said. "We know that God will be the ultimate judge, but if we can throw a little judgment in for good measure, we're happy to do it."
Finn doesn't seem concerned about any potential punishments from BCCC.
"They can do whatever they want with my diploma," she said. "I've already been accepted to Bob Jones University, so I am no longer beholden to the legalistic culture of BCCC. Freedom, here I come!"