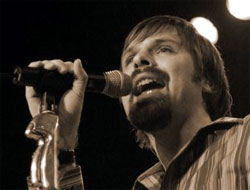 Mac Powell
According to an industry study conducted by Provident Music Group (PMG), Contemporary Christian Music (CCM) is dominated by what many are calling "The Third Day 'Do" - a haircut popularized by Meg Ryan circa 1999, and championed by Christian rocker Mac Powell. The style is viewed by many in the industry as a sign of commercial viability.
"This particular haircut really is an indication of where a band is career-wise," said PMG spokesperson Gretchen Krause, speaking from the pit at Spirit West Coast - a three day CCM festival held annually in California. "Let's face it, Third Day's rise to pop-Christian superstardom has coincided with the growth and styling of Powell's hair. Then of course, you've got Switchfoot. Those guys were really feeling led by the Lord to get the cut. Well they prayed, stepped out in faith, went to Supercuts, and the rest is history. The success of "Meant to Live" is meant to be a confirmation of all that the Lord is doing in their lives, and with their hair."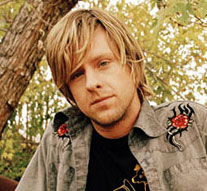 Jon Foreman of Switchfoot sporting the MacPo
While most Christian musicians are enjoying their newfound follicles and fame, the hair stylists who produce these cuts have grown weary. At Fantastic Sam's in Nashville, Rex Hoyle has had enough. "If I see one more waify white guy walk in here with a tight pair of faded boot cut jeans, I swear I'll quit. I'm tired of all the 'can I have the MacPo?' this, and 'Wire me' that. I see that style in my dreams honey, and frankly, it's just sissy looking."
Longtime Jars of Clay lead singer and 'Mac' wearer Dan Haseltine shared his thoughts, "For me, it's about being both masculine and sensitive. This hairdo says, 'I'm secure in who I am, and I promise to be tender as I sing to you.' It's really spiritual." Krause agrees. "The MacPo communicates an air of spirituality in an artist that typically is lacking in those who don the Seacrest or the Clooney." The survey was conducted over three days in May, with a sample group of 1,319 Christian musicians. The margin of error was 0%.