Goodyear Blimp Covers Saddleback Services
Nantz Calls Play by Play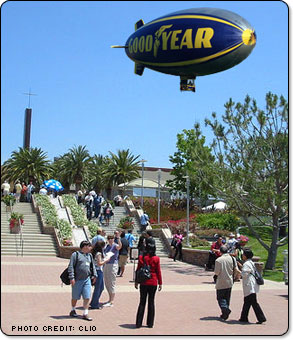 Parishioners look on as the Goodyear blimp hovers low over Saddleback Community Church.
LAKE FOREST, CA – When the elders of Saddleback Community Church gathered three months ago to pray over a theme for the Year of Jubilee, Pastor Rick Warren was led by Providence to skip the meeting for an Angels-White Sox matinee.
"I had just ordered a soft pretzel and a light beer when the vision literally fell out of the sky," Warren said. "I thought, 'Yes Lord, this will be a good year indeed.'"
Warren immediately texted Associate Pastor Anson Billings, and one week later the Goodyear blimp flew from the U.S. Open in Oakmont, Pa., to Lake Forest.
"What a blessing to see that blimp up there, scrolling those Scripture verses," Billings said. "You know, we could've gone with Snoopy Two, but it's not like we're some Feng Shui church celebrating that lame Year of the Dog or something. This is Jubilee, son!"
The mega-church also erected an announcer's tower in the back of the sanctuary, where Jim Nantz called the opening service. "Matthew, Mark, Luke and John—a grand slam for the Rock of Ages," Nantz whispered into his microphone.
"Did you hear that?" Billings said after the service. "I can't wait 'til April when ol' Nantz announces a tradition like no other, the Saddleback Sunrise Services."
Warren was matter-of-fact about the whole thing. "I gotta say, it was a good day. And someone better tell Ice Cube to re-read the lights of the Goodyear blimp. It says Rick Warren's a pimp."

---
Bookmark/Share this page: