Hacker Attacks BibleGateway.com, Switches KJV and Amplified Bibles
Fundamentals everywhere lament their "unauthorized" scripture references
Category:
Technology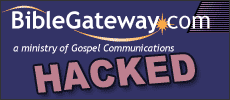 MUSKEGON, MI – In the days leading up to July 6th, the U.S. government and private technology experts issued warnings that hackers involved in a loosely organized contest planned to attack thousands of computers across the country. Although the contest is over and the severity of the damage is unknown, it is certain that at least the owners and users of BibleGateway.com have fallen victim to one hacker's malicious and deceptive onslaught. The attack involved breaking into BibleGateway.com's computers and switching the online versions of the King James Bible and the Amplified Bible. The results of this assault echoed through sanctuaries and chapels all across the nation.
From Sunday at 1:28 AM till Tuesday at 7:39 PM anyone at BibleGateway.com who looked up passages in the King James Version of the Bible was actually presented with passages from the Amplified Bible (and vice versa). It wasn't until BibleGateway.com's feedback center was bombarded with thousands of complaints that they looked into and resolved the issue. Compliments were also submitted.
Barbara Hamburg, one of the site's support specialists recalls, "At first we were confused. I mean, the complaints were very confusing, like, 'Your KJV sucks!' and 'What foul-mouthed blasphemer wrote your Bibles?' So for a couple of days we just responded with our standard 'Just trust in the Lord and pray—everything will work out for good!' That usually does the trick."
Unfortunately, for some users who were slightly less observant, passages from these mislabeled Bible versions made their way into PowerPoint slides and sermon notes all across the country. One of the more controversial debacles occurred at the American Fundamental Baptist Association National Conference on July 12th, where pastor and co-chair of the AFBA Jimmy Rainford accidentally quoted and displayed a verse from the Amplified Bible instead of his authorized KJV on three 20-foot screens during an evening sermon. More than 11,000 of the 13,000 appalled attendees walked out of the stadium while over 100 attending pastors' wives fainted in their dismay.
Rainford explains, "I was up very late on little sleep Friday night gathering God's word for my sermon slides. I must've been too tired to notice the devil's foothold pulling me down into the demonic realm of blasphemy. The screen said it was the KJV, but evil can creep in very subtly!"
Some of Rainford's cohorts, while horrified by the mix-up, are surprised that he of all people could let this slip by. Pastor Dale Embrook, another speaker at the conference, explains, "Good mercy, there was nothing subtle about the toxin that was spewing from his mouth! How Satan was able to deceive him on such a simple verse, I do not know."
The verse in question is John 11:35—the shortest verse in the Bible. Instead of reading "Jesus wept," as found in the KJV, Rainford quoted the Amplified Bible and read, "Jesus, the certain god-man whose blessed flesh was pierced by the sword as he, the redeemer of all iniquity, stood troubled in the shadow of one man's recent death as the power-indwelling Spirit set weight on his holy tear ducts, wept."
Billy Zeoli, president and CEO of BibleGateway.com's parent company Gospel Communications International, responded to the hacker's attack, "We are truly saddened by this malicious act. Also, as unfortunate and disturbing as this attack is, it is clearly stated in our disclaimer that the accuracy of our online content cannot be guaranteed and Gospel Communications International is not in any way liable for the negative ramifications that may result from the use of its content. Again, our hearts are with each and every victim of this crime." His compassion runs deeper still, as he later vowed to "pay more attention" to the integrity of gospelcom.net's content.
As the AFBA and every other victim of this ruthless attack begins to heal, we are reminded that evil has no boundaries in its quest to corrupt what is good and deceive oblivious Internet users.