Top 10 Summer Youth Group Activities
Category:
Top 10
,
Youth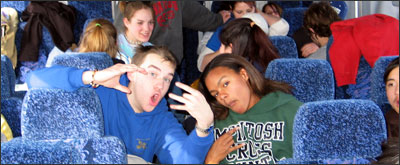 Crazy Youth Group Kids
Kids these days are crazy! It takes wild events simply to keep their attention. We've searched churches all across the US in order to find the very best youth group activities planned for this summer. If you're looking for ideas for your youth group, feel free to use any of these activities to get your summer going! And don't hesitate to contact us if you have any better plans!
Praise-Rave Bump & Grind on the Boardwalk

Hope Church – Ocean City, MD

Hope Church is turning cold-contact witnessing into the hottest thing on the boardwalk! If you really want someone to listen to you while you're sharing the gospel it's best if they feel close to you. And what better way is there to get close than by getting your groove on with God-seeking strangers, set to the latest underground club music? Hope Church's DJ T-Max will be spinnin' for soul winnin' this summer, July 25-31.

Tract-A-Thon Fundraiser for Trip to Florida

First Church of the Nazarene – South Portland, ME

This summer, youth group kids from FCN-SP are spending evenings and weekends at the Maine Mall, passing out gospel tracts to passersby. Each student received monetary pledges for the number of tracts he or she could hand out during the one-week fundraiser, with the money to support the youth group's annual trip to the Florida amusement parks. Youth Pastor James Caple encourages all the teens to pass out as many tracts as possible, because, in the words of the fundraiser slogan, "You're not a real Christian until you get beat up for it!"

Second Annual Mosh-a-Thon

Vineyard Fellowship – Dayton, OH

YOUth 4 Yahweh, the youth group of Vineyard Fellowship is raising funds for its mission trip to Daytona Beach. The Mosh-a-Thon is a cool updated version of the rock-a-thon – a popular fundraiser for youth groups of the 70's and 80's, where Christian kids "rocked" in rocking chairs while "vibing" to Sandy Patty. Christian death metal band Bleeding Prophet will perform. After hospital bills and 2 lawsuits, last year's Mosh-a-Thon cost Vineyard Fellowship $3,176.24, and the mission trip to Cancun was cancelled. More profitable results are expected this year due to a mandatory waiver that all kids' parents must sign.

10th Annual "Free" Car Wash

Billings Church of God in Christ – Billings, MT

For a decade now, the teens of Billings Church of God in Christ have held this paradoxical free fundraiser. Although the advertising will suggest the car wash is free, youth group members have been instructed to guilt anyone who takes advantage of the service into making a "voluntary donation" to benefit the groups other summer activities.

Make Fun of the Amish Day

Mennonite Brethren Assembly – Pottsville, PA

Influential youth group members Stephen Williams and Chuck Truman lead this annual event once again. Sources say this event, in keeping with a two-year tradition, will consist of sitting on a hill overlooking a field where those goofy-looking Amish guys are harvesting corn using only a mule-drawn cart and a hand operated scythe. With any luck, the one guy's daughters will come out of the farmhouse so students in attendance can scoff at their outdated dresses and bonnets. (This event is unofficial and is not sanctioned by the Mennonite Brethren, its official board or any member of its staff.)

Flash Mob at Democratic National Convention

All youth groups in proximity to the convention

Youth Pastor Wade O' Leary of Calvary Chapel Boston "got the vision" for a "Contemporary Christian Flash Mob" while reading Jesus' prayer for Christian unity in John 17. "I thought, what better way for real Christian youth to show their zeal and unity than to protest some liberals?" O'Leary has snail-mailed in excess of 5,000 fliers to various churches in New England, inviting the youth to show up outside the Fleet Center on the 26th of July at 7:08 p.m. and chant the "I love Jesus, yes I do" chant. He's also advertised the event on W.O.R.D. FM in Boston. When informed that Flash Mobs are so 2003, and were usually organized more discreetly, O'Leary said, "Jesus is cool yesterday, today, and forever."

Lutheran Church Field Trip

Portland Christian Fellowship – Portland, OR

Jesus Junkies – the 234-member youth group at PCF – will be visiting 39-member Immanuel Lutheran on Sunday, June 20th to, as Lead Pastor Jensen Everett says, "see the last vestiges of what God was doing in the early 20th century."

"I Kissed Virginity Good-bye"
A Very Special Weekend With Joshua Harris

Bethel Baptist – Butte, MT

August 6-8 at Cripple Creek Cabin. Bethel Baptist is inviting young people ages 12-17 to attend this exciting weekend retreat with popular ex-virgin and speaker Joshua Harris. Mr. Harris will be sharing the life-changing principles and techniques that brought him out of a life of celibacy. Special music will be provided by Stacie Orrico and other hot, er holy Christian singles, er singers.

Non-alcoholic Keg Party

Harvest Church – Sandusky, OH

Portland's Harvest Church is "meeting kids where they are" this summer with its Non-alcoholic Keg Party on August 6th. Pastor Jeff Spurdock explains, "If we want students to relate to Christ, we need to relate to them first! This function serves to let them know we can party too, sort of – and have almost as must fun!" There will be a non-indulgent limit of 3 beverages per student.

Budget Surplus Shopping Spree

Life Community Church – Atlanta, GA

This summer LCC is asking unchurched high school students to "'spend' just one evening with Jesus" as part of their "SeekerSummer '04." All of LCC's 2004 tithes that exceed their YTD budget will be divided between the expected 120 high school students. The students will then be given 1 hour to spend their funds on "the coolest stuff possible" at the Mall of Georgia. Leader Don Hingles believes "this event appropriately communicates God's desire to abundantly provide for His children in really cool ways!" LCC's current budget surplus is $68,429.