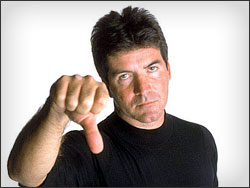 Cowell, not impressed
Simon Cowell, the sarcastic judge from TV's American Idol, seems unable to restrain his penchant for opining about musical performances—even at church. Nor is he apparently able to avoid angering singers and their families with his comments. Cowell's most recent victim was Kelly Holloway, 28, who gave a special musical presentation on Easter Sunday at St. Mary's Twickenham Anglican Church, where Cowell is a lifelong member and occasional attendee. After the performance, the critic everyone loves to hate spouted off about the Holloway's lack of ability, drawing the ire of the singer and her father.
As was his custom, Cowell was in attendance for the Easter celebration service at St. Mary's Twickenham, where Holloway is a committed member of the choir. As lead soprano, she had been selected to sing a solo in the cantata song "I Know That My Redeemer Liveth." Though many in the congregation were moved by Holloway's performance, Cowell was unimpressed. Several witnesses reported seeing the so-called "Angry Englishman," wearing his trademark black T-shirt, shaking his head throughout the solo and cringing at every high note.
After the service, when parishioner Allan Blagg jokingly asked Cowell what he thought of the soloist, the trouble began. Pausing to pour some coffee from the refreshment table into his Coca-Cola travel mug, Cowell said, "Well, frankly, I thought it was bloody terrible." Blagg, somewhat taken aback, disagreed and replied that he had enjoyed it thoroughly. Cowell countered, "I'm sorry; it just wasn't good enough." And in a demonstration of particularly bad timing, he concluded his critique just as Holloway and her father were walking into the narthex, saying, "If Christ himself had stepped on stage and cast a legion of demons into a herd of pigs, the sound could not have been more awful."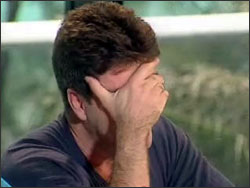 The reaction was immediate. Holloway burst into tears and quickly ducked into the ladies' room. Her father, Jack Holloway, was outraged and confronted Cowell at once, threatening to "make [him] squeal like a pig." Cowell's curt reply elicited groans from the crowd that had quickly gathered to observe the confrontation: "I'm sorry, but someone had to tell her she sounded like a choir boy going through puberty. And it clearly wasn't going to be Daddy."
At this point, Vicar Stephen Francis stepped in and scolded the critic for his hurtful comments. Not surprisingly, Cowell was unapologetic. In response to the vicar's protest, he replied, "Listen, when this girl gets to heaven, there are going to be angels there. Have you ever heard angels sing? They call it 'angelic' for a reason. I don't mean to be rude, but this kind of performance just isn't going to cut it up there."