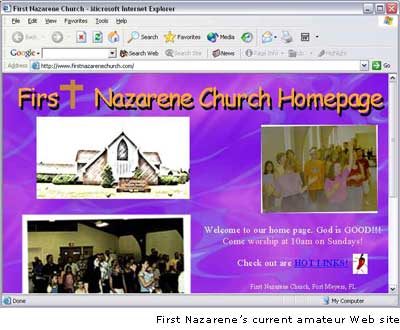 FT. MEYERS, FL – The First Nazarene Church is really living up to its name. Guinness World Records has independently confirmed that the congregation is, without a doubt, the first ever to commission a professional Web design company to develop its official Web site.
"We had a lot of our people working on this one," said James Kiefer, head of research at Guinness. "Our investigative team scoured the Internet, looking at every church Web page they could find, and believe me, we didn't find a single one that could possibly have been professionally designed."
The church has come to an agreement with D.G. Technologies, an independent Florida-based Web-consulting firm, who hopes to have First Nazarene's site up and running by early fall.
"When we first got the call from the church saying they wanted us to do their site, we thought it was a prank. We've never been approached by a church for Web services," said Mark Dulpin, owner of D.G. Technologies. "When we realized they were serious, we gave them a really good deal. This is a totally untapped market for us."
But First Nazarene's landmark site almost didn't happen.
"We were all ready to go on our own," said Senior Pastor Tim Schayes. "We had some slightly out-of-focus pictures of Sunday morning worship and a water color sketch of the church building that one of our teens scanned in on the computer. They came out a little crooked, but I thought they looked alright."
Fortunately for First Nazarene, some of the younger church board members disagreed.
"We really led the charge to spend the money to get this thing done right. I've just seen too many bad church Web sites with content that gets updated about as often as the Bible," said Donald Restin, a junior board member. "Then someone mentioned that they had never seen a professionally designed church site, and that's when we decided to get Guinness involved."
First Nazarene will officially be listed in the 2004 Guinness Book of World Records as having the first ever professionally designed church Web site.
"This is a great distinction for them," Kiefer said. "No matter what happens, they'll always be listed with us as the first, and after doing the research on this one, we're really hoping that some other churches will follow their lead."