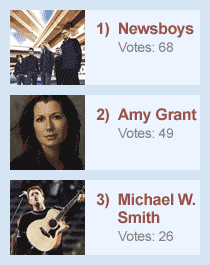 Rick Louis
Voted for: 4Him
Comments: Should be named "Only 4Him" ..... 'cause no one else should want to listen to this crap!
Patrick O'Hallaghan
Voted for: Michael Knott
Comments: Two words: Rock Opera?!? The man released an album called Fluid back in 1996 of this genre. And get this the tracks concatenated in order create a sentence: 1. Crash 2. Cool 3. Over 4. Stars 5. Drive 6. Tonight 7. Away 8. Somewhere 9. Thru 10. The Sky 11. ??? (I kid you knott on the ???)
Leah
Voted for: The Newsboys
Comments: One word - SHINE! How many times can you play one song?? How many albums can you make from the same song?? It's the one-hit wonder that wouldn't die!
Mike Shea
Voted for: Relient K
Comments: Please shoot the bass player.
Tom Hawkins
Voted for: Capstone
Comments: The only reason that delirious continues to let these guys open for them is so that the same thing they did to Jars of Clay can't happen to them. If your opening band sucks as bad as crapstone does, Miss Angie could appear to be the next Rolling Stones. If you haven't heard 'Crapstone', your ears are truly blessed.
X-Man
Voted for: Michael W. Smith
Comments: I hear his name isn't even Smith. It's Jackson, and that he isn't even a white guy, and that he has had his hair surgically altered 45 times in fear of being mistaken for the real Michael Jackson!
Robert
Voted for: Chis Rice
Comments: His songs are ridiculous, and if I hear Cartoons one more time, I may become suicidal!!!
Mitch Bojarski
Voted for: Carmen
Comments: This guy really sucks, and he's an a**hole too. I met him once once and he was like totally rude and thinking that he was better than me and stuff. I can't believe people actually listen to him, I sometimes feel sorry for those who do.
Patrick Robertson
Voted for: Bob Carlisle
Comments: If I hear "butterfly kisses" one more time I think I'm gonna puke.
Ryan
Voted for: DC Talk
Comments: Rap in the 80s, grunge in the 90s, and boy band in the 00s (Toby Keith). I vote them crappiest on basis of their identity crisis! Stick w/ who you are not what sells!
Ben
Voted for: Amy Grant
Comments: Why do record companies still let her record? She hasn't been worth listening to since 1988!
Saltine
Voted for: definitely the Newsboys
Comments: Not Ashamed? You should be.
Pastor Marque E. Duncan
Voted for: DC Talk
Comments: Everybody seems to be crazy about these guys, but I think they reak.
Paul Dizzie
Voted for: Mizzie W. Smizzie
Comments: Lookin for a rizzie? Roamin through the nizzie to find a plizzie in this joint. Dawg, your shizzie be more confusing than a plastic cup with gin and no juice. Kid, ya'll got yo' cup but you ain't chipped in!!!
Greg Dalenberg
Voted for: Switchfoot
Comments: The lead singer has a voice on par with finger nails scratching on a chalk board and their favorite lyrical device seems to be repeating short corny phrases a hundred times yet they are played on the radio and get high billing at concerts.
Jim H.
Voted for: Plus One
Comments: Christian boy bands? What's next, Christian eye glitter? The talent of this group on a scale of one to ten Plus One would equal one. Wait, that would have to be at least two. Or would it?
Laurie
Voted for: Steven Curtis Chapman
Comments: Hey, I'm a country western artist. Ok, now I want to be pop. No wonder this guy needs two first names!
Robert
Voted for: Sixpence None the Richer
Comments: Every song sounds the same, and she sounds like an out of tune violin.