Jesus Spotted Using iPhone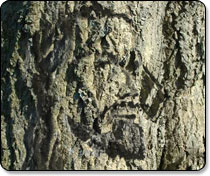 BARCELONA, CATALONIA, SPAIN – Normally, when Jesus mystically appears in a plant or a piece of food, only his face is visible. But when Eulàlia Beltran recently noticed the Lord in the bark of a beech tree in Barcelona, his left hand drew more attention than his face. Even the expected nail print in his hand was obscured by what he was holding in his hand: today's hottest electronic device, an Apple iPhone.
"There I was, feeding the geese, when I saw the Jesus and the phone in a tree in the pen," recalled Ms. Beltran. "I recognized it right away. I've been wanting for an iPhone every since it's released in the U.S. [in June]. I would have known it anywhere. Even in Jesus' hand. On the side of a tree."
Representatives of the Barcelona Diocese of the Roman Catholic Church have confirmed that a sighting of Jesus was reported in Catalonia. But they have declined further comment about the iPhone, citing a Vatican policy that prohibits direct acknowledgement of anything thin and trendy.
When contacted, a heavenly official, speaking on condition of anonymity so as not to jeopardize what he termed his "personal relationship with Jesus," confirmed that the Lord has indeed been using an iPhone since early July. Our interview with this official is quoted extensively below.
The new gadget has been the source of much consternation within the heavenly realm, causing both jealousy and technological resentment. "At first, all the angels were fawning all over it, asking to try it out, getting Google Maps directions from Jerusalem to Reno and watching God Inc. on YouTube and stuff," the official told THO. "But the Heavenly IT guys had their sandal thongs in a bunch because the iPhone doesn't work with the Exchange server up here and they thought it would mess up our WiFi network... but around here, pretty much whatever Jesus says, goes. So they had to get over it."
As for being seen in the bark a tree, our source had no definitive knowledge of Jesus appearing in Barcelona. But he speculated that the mystical event "could have happened when Jesus was on vacation in Spain last month," noting that "the Lord seriously craves tapas lately."
Surprisingly, having an iPhone in heaven has not been a completely happy experience—even for Jesus himself. "He was pretty irritated that [Apple CEO Steve] Jobs wouldn't give him an advance model. He took it as a direct slight that David Pogue and Walt Mossberg got them but he didn't," recalled the heavenly official. "For a while, he was even talking about a boycott. But what was he going to do? Use a BlackBerry? The Lord? In 2007? C'mon. So he bought one out of pocket. And let me tell you, he was none too happy when Apple dropped the price by $200 only a few months later. Let's just say that $100 store credit they're offering now was not because Jobs is some big softie by nature. That took some serious doing."
But all in all, Jesus is apparently very satisfied with his new phone, which some say he inspired in the first place. "They don't call it the God Phone for nothing, you know," the official concluded. "He just wishes he didn't have to use AT&T. The signal up here totally sucks."

---
Bookmark/Share this page: